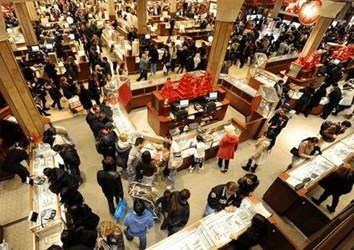 As loans backed by malls come due, uncertain futures could doom the brick-and-mortar solution.
The new omni-channel retail reality has many retailers struggling to find the appropriate balance. Even as a number of major retailers are shuttering physical stores to focus on their online presence, other e-retailers like Amazon are experimenting with physical stores and fulfillment centers, as Innovative Retail Technologies has reported. Some $47.5 billion of loans backed by malls and other retail properties are coming due in the next year and a half, according to a report from Bank of America Merrill Lynch, Bloomberg reports.
The bottom line is that skittishness about department store prospects, the rise of e-commerce, and the shopping-mall model are making lenders leery, making re-financing difficult and more expensive. This reality could accelerate closings of mall properties that contain too many struggling stores, are in less-than-ideal locations, and/or haven't been renovated in years. 
Earlier this year, Green Street Advisors postulated that the only way that large department stores can achieve their earlier levels of productivity is to close hundreds of additional locations , a decision that would have a devastating impact on malls. And retail analyst Jan Kniffen  told CNBC last month that while there are some 1,100 enclosed malls in the U.S., that number should closer to 700. "The top 250'll do fine, and the rest of them are going to struggle," he noted. 
The retail space is facing a tipping point, as malls below the top tier are being squeezed by a retail environment that includes falling store traffic, changing consumer tastes, and rising e-commerce sales. Additionally, financing for these malls is becoming more difficult because landlords have fewer options than they did a decade ago.
"The criteria to get financing is getting a little bit more stringent and cutting off the lifelines for some of these malls," DJ Busch, a senior analyst at Green Street, told Bloomberg.
Ultimately, some analysts believe, the crunch on mall space will represent simply a necessary thinning out of the herd. Several hundred malls could shut down over the next decade, with properties reliant on Macy's, JC Penney and Sears at the most risk.
Sales at department stores, once the engines that powered shopping centers across the U.S., have declined almost 20 percent since 2006. About 800 department stores would need to shut down to restore balance between sales and profitability. 
Tad Philipp, an analyst at Moody's Investors Service, asserted that e-commerce will indeed continue to take its pound of flesh.
"For many years, people thought the retail business in the U.S. was a bit overbuilt," Philipp said. "The advent of online shopping is kind of accelerating the separation of winners and losers."