Retail Tech Spending

As the groundwork for enterprisewide data visibility falls into place, a game of connect-the-data dots is playing out in stores.
More Supply Chain Magazine Articles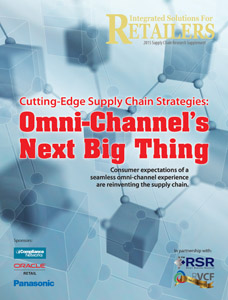 Cutting-Edge Supply Chain Strategies: Omni-Channel's Next Big Thing
Consumer expectations of a seamless omni-channel experience are reinventing the supply chain.
Communication between retailers and suppliers will look very different in the near future. In order to meet the increasing demands of the consumer, control costs, and enhance collaboration, retailers and suppliers must improve processes for sharing data and extract as much value as possible from that data. The Trading Partner Interface of the Future, as conceptualized by RVCF, will achieve these goals while strengthening relationships between retailers and suppliers. By exploring the key areas of retailer-supplier communication, this report provides insights into what such a solution would entail and the business benefits it would create. Stakeholders in technology companies should take note that it is our vision that unrestricted, synchronized data sharing is the direction of the future.
---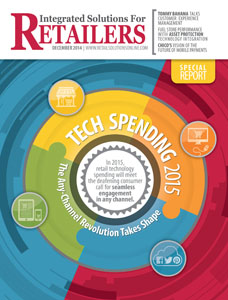 Tech Spending: The Any-Channel Revolution Takes Shape
In 2014, retail investments focused on the consumer experience. In 2015, retail technology spending will meet shoppers' collective calls for seamless engagement in any channel.
Since 2009, Integrated Solutions For Retailers has been mapping the tech spending plans of our subscriber base, benchmarking retailers' implementation priorities and the trends that drive those priorities along the way. The comprehensive survey data we collect annually during late Q3 and early Q4 — this year from more than 200 retail decision makers across several disciplines — paints a clear and accurate picture of what's to come in the following year. We began conducting the survey in the wake of near financial collapse, at a time when many retailers were intent to merely keep the lights on. A look back at our December 2009 predictions shows an industry investing in bare minimum maintenance of legacy systems, even as consumers began leveraging new mobile and e-commerce technologies that put intense competitive pressure on traditional and fledgling cross-channel retailers. Over the next two years, retail tech spending gradually climbed out of perseverance mode.