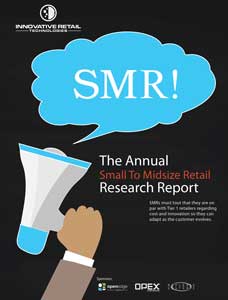 Winning The Battle For The Omni-Channel Share Of Wallet: How Are Small To Midsize Retailers Doing?
SMRs must tout that they are on par with Tier 1 retailers regarding cost and innovation so they can adapt as the customer evolves.
SMRs need to present themselves to the consumer with all of the power of tierone retailers, but they need to do this in a manner that is sustainable — at the right cost in terms of budget, right sized in terms of immediate and ongoing resource requirements, and the right platform for innovation, so that they can adapt as the customer evolves. This special report from IDC Retail Insights will help SMR retailers do three things:
Understand how to satisfy consumer needs by employing an omnichannel operations platform that is future-proof
Assess how their digital and omnichannel programs compare with the competition
Develop a road map for digital and omni-channel transformation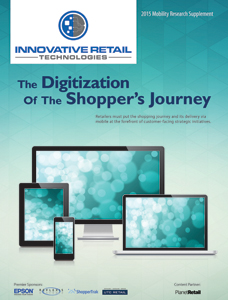 Mobile Is An Innovation Imperative - The Digitization Of The Shopper's Journey
Retailers must put the shopping journey and its delivery via mobile at the forefront of customer-facing strategic initiatives.
The retailer's opportunity to innovate with consumer-facing mobile technology is no longer on the horizon; it's here, it's now, and it's big. We're extremely pleased to feature some eye-opening analysis on the subject from Miya Knights, who recently joined Planet Retail as global research technology director. Miya was previously senior research analyst for IDC Retail Insights, and she served as editor of Retail Technology magazine for a decade years prior to that. She knows her retail technology, and her contribution this month leaves little doubt that modern retail strategy is incomplete without a comprehensive approach to mobile consumer engagement.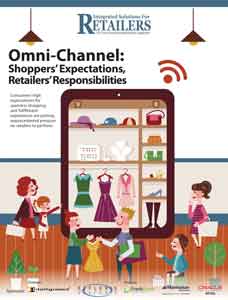 Omni-Channel: Shoppers' Expectations, Retailers' Responsibilities
Consumers' growing acceptance of mobile commerce and high expectations for seamless shopping and fulfillment experiences are putting unprecedented pressure on retailers to perform.
Most retailers are keenly aware of the latest channel-specific retail sales statistics, but here they are in case you missed the memo:
• The most recent U.S. Census data tells us that e-commerce represented 6.7 percent of total retail sales in Q4 2014.
• We've all heard from multiple sources that more than 90 percent of U.S. retail sales are consummated in brick-and-mortar stores.
• According to A.T. Kearney survey data, 95 percent of U.S. retail sales are captured by retailers with a brick-and-mortar presence.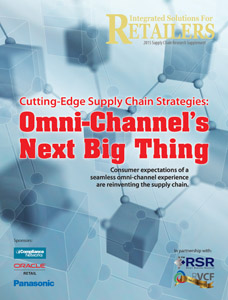 Cutting-Edge Supply Chain Strategies: Omni-Channel's Next Big Thing
Consumer expectations of a seamless omni-channel experience are reinventing the supply chain.
Communication between retailers and suppliers will look very different in the near future. In order to meet the increasing demands of the consumer, control costs, and enhance collaboration, retailers and suppliers must improve processes for sharing data and extract as much value as possible from that data. The Trading Partner Interface of the Future, as conceptualized by RVCF, will achieve these goals while strengthening relationships between retailers and suppliers. By exploring the key areas of retailer-supplier communication, this report provides insights into what such a solution would entail and the business benefits it would create. Stakeholders in technology companies should take note that it is our vision that unrestricted, synchronized data sharing is the direction of the future.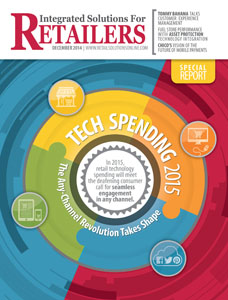 Tech Spending: The Any-Channel Revolution Takes Shape
In 2014, retail investments focused on the consumer experience. In 2015, retail technology spending will meet shoppers' collective calls for seamless engagement in any channel.
Since 2009, Integrated Solutions For Retailers has been mapping the tech spending plans of our subscriber base, benchmarking retailers' implementation priorities and the trends that drive those priorities along the way. The comprehensive survey data we collect annually during late Q3 and early Q4 — this year from more than 200 retail decision makers across several disciplines — paints a clear and accurate picture of what's to come in the following year. We began conducting the survey in the wake of near financial collapse, at a time when many retailers were intent to merely keep the lights on. A look back at our December 2009 predictions shows an industry investing in bare minimum maintenance of legacy systems, even as consumers began leveraging new mobile and e-commerce technologies that put intense competitive pressure on traditional and fledgling cross-channel retailers. Over the next two years, retail tech spending gradually climbed out of perseverance mode.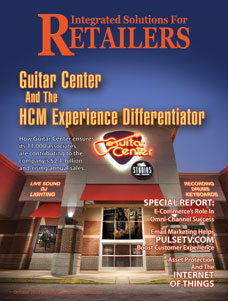 E-Commerce's Role In Omni-Channel Success
An integral part of omni-channel success, e-commerce must undergo efficiency gains in fulfillment and synchronization with brick-and-mortar to improve the overall customer experience and move the sales needle.
According to Forrester, online retail sales in the U.S. are expected to reach $294 billion this year, or approximately 9 percent of all sales in the U.S. By 2018, Forrester expects online sales to account for 11 percent of total U.S. retail sales. The proliferation of online shopping has been alive and well for years, but now more than ever, customers value a seamless shopping experience — both online and off. However, the online shopping experience doesn't end when the customer clicks the "buy now" button. It ends when the customer receives the right order on time or sooner than expected. Streamlining the customer's digital path-to-purchase and delivering a smooth experience are akin to watching Olympic athletes in action — they make it look so easy when it is anything but. Indeed, a seamless e-commerce experience is heavily dependent on the brick-and-mortar store, technology, and next-level customer service.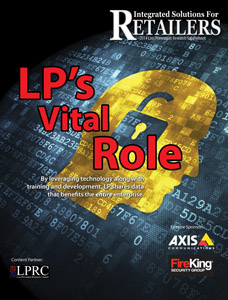 LP's Vital Role
By leveraging technology along with training and development, LP shares data that benefits the entire enterprise.
Consumer needs dictate that retailers take an omni-channel approach across their business. This, however, doesn't come without its asset protection challenges. As such, we've partnered with highly regarded leaders in the fields of loss prevention and asset protection who bring extraordinary experience and sophistication to the pages of the 2014 Annual LP Research Supplement.
Our friends at LPRC, ASIS, LPF, RetaiLPartners, and more review the latest trends, risks, and preventive techniques in omni-channel retailing, spotlighting ways to stay ahead of the curve and integrate these approaches with your company's holistic LP strategy.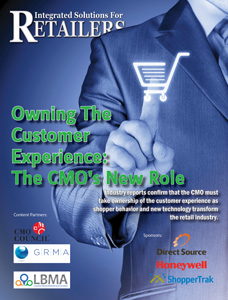 Owning The Customer Experience: The CMO's New Role
Industry reports confirm that the CMO must take ownership of the customer experience as shopper behavior and new technology transform the retail industry.
By now, you have likely been overwhelmed by the reports screaming of the changing behaviors of today's digital customers. They are online — ALL THE TIME. They are sharing. They are complaining. They are raving about our products. They are raving about our competitors' products. At this point, I would normally share an overwhelming graphic about how many tweets are generated per day (it's 58 million per day by the way).
Marketers, it's time for a re-evolution. I carefully say "re-evolution" and not "revolution" because what I suggest is a shift in view — a leap forward into a better version of ourselves — not a complete and total overhaul.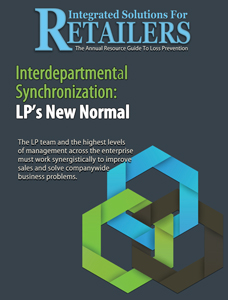 Interdepartmental Synchronization: LP's New Normal
The LP team and the highest levels of management across the enterprise must work synergistically to improve sales and solve companywide business problems.
Retailers are always searching for technology solutions to mitigate theft and fraud, but not just any technology will do. They are looking for innovative, next-generation solutions that will address the challenges they face today, and those that lie ahead. With the 2014 RILA Retail Asset Protection Conference just completed, we saw many of the emerging technologies, software or cloud-based products, and physical security solutions showcased by industry leading solutions providers that will assist with the challenges retailers face in asset protection and throughout the enterprise.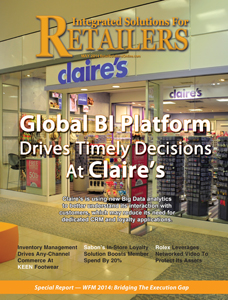 WFM 2014: Bridging The Execution Gap
According to Retail Systems Research, there's a massive gap between modern WFM/HCM (human capital management) solution capability and retailers' execution of sophisticated labor management practices. In its recent report, "WFM 2013: The Store Employee in the Customer Age," RSR revealed that only 33 percent of retailers consider themselves highly capable of absence management and recruiting. Slightly fewer consider themselves highly capable with their hiring/onboarding and labor budgeting and planning systems. And most startlingly, well under a quarter of retailers rank themselves highly capable of forecasting and scheduling, task management, and labor analytics.
The laggard state of retail WFM adoption is no doubt — at least partially — a product of the propensity for retailers to leverage multitasking POS software for labor management functions like time and attendance and scheduling. This approach, however, often fails the scalability test as the business expands, and the retailer finds itself returning to old labor management classics: pens, paper, and Excel.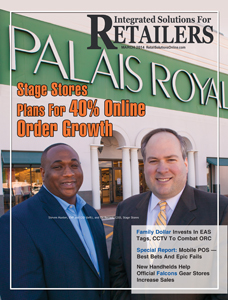 Mobile 2014: Best Bets And Epic Fails In Retail Mobility
Mobile POS races to the bottom, customer service apps reign supreme, and BYOD begins to make perfect sense.
 If retail mobile adoption stats are any indication, there's a stout infrastructure of mobile devices, applications, and the networks that support them in retail. Our annual survey of retail tech buying decisions revealed that for the first time ever, retailers plan to spend as much on mobile hardware and software applications as they do on traditional fixed retail systems in 2014. The applications those mobile devices will support are many and far reaching — from inventory management to POS to clienteling and a host of other customer experience enabling apps.
Still, mobile adoption and mobile execution are two entirely different things. Mobile is pervasive; that's lost on no one. But is it effective? How? What's the quickest path to mobile device deployment success and ROI? Rather than go long on the plans of your retail peers to plug mobile devices into their retail systems infrastructures, this report will seek to identify where early adopters have stumbled, why, and how you can avoid the same mistakes. We'll also discuss mobile trends such as bring your own device (BYOD), how machine to machine (M2M) and geolocation are bridging the gap between enterprise and consumer mobility, and how these trends can either fuel your initiatives or bring them down in flames.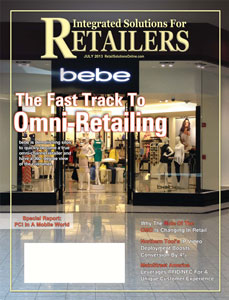 Don't Be A Target — Secure Your Payment Applications
Payment security is a responsibility shared by retailers, vendors, acquirers, and processors — all working to secure card data as it's being accepted, processed, transmitted, and stored.
Recent industry reports underscore retail as the hottest target sector for stealing valuable payment card information. And according to Trustwave's 2013 Global Security Report, 63% of the breaches investigated in 2012 were a result of security vulnerabilities introduced by a third party responsible for system support, development, and/or maintenance of business environments. Verizon noted similar findings in its recent breach report. These vulnerabilities often come by adding or reconfiguring a new system, new software, or through other integration failures. One seen most often is a very simple one — not changing factory default passwords in added system components — leaving you open to a vulnerability you may not even be aware exists.