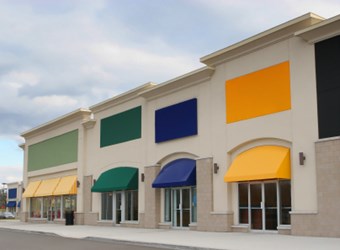 Jan Kniffen says the future of retail will look very different in just a few years.
As Macy's and JCPenneys reported troubling Quarter 1 returns, J. Rogers Kniffen Worldwide Enterprises CEO Jan Kniffen told CNBC that one in three American malls "are not long for this world," signifying big changes to come for U.S. retailers.
One challenge facing the sector is the fact that the U.S. has an oversupply of retail space when commerce is moving more and more online. He explained to CNBC's "Squawk Box." , "On an apples-to-apples basis, we have twice as much per-capita retail space as any other place in the world. The U.K. is second. They're half of what we are. So, yes, we are the most over-stored place in the world."
The U.S. currently has an estimated 48 square feet of retail space per citizen, Kniffen said, and he predicts that approximately 400 of the 1,100 enclosed malls across the nation will close in the next few years. Of those that remain, he says likely just 250 will thrive, and the rest will struggle to continue operations. In the case of Macy's, Kniffen advised that it should shutter roughly 300 of its existing stores to be profitable.
Among mall owners and operators that he says are most likely to succeed are Taubman Centers, General Growth Partners, and Simon Property Group.
The problems facing retailers like Sears and Macy's — and the malls they inhabit — are part of a larger, more fundamental issue brought on by the explosive growth of Internet commerce, Lee Peterson, an executive vice president at WD Partners, a Dublin-based retail-consulting company, told the Columbus Dispatch in February of this year.
"The bigger picture is more people are shopping online," Peterson said. "Talking to consumers, we've found they all say a simple thing: We don't have to go to stores anymore. We have to want to go."
To lure customers off their couches, retailers and malls now must offer something that the Internet can't.
"So, if you are a retailer that doesn't have some kind of experience to offer, you're sunk," Peterson said. "Dick's Sporting Goods (which is in an old anchor spot at Polaris) is all sporting goods, and all their merchandise is related to experience. Macy's, on the other hand ... you can buy almost anything in their stores online."
If what Kniffen predicts is true, it will also have a ripple effect on the emerging omnichannel approach to retail favored by a large number of shoppers. Reducing the number of physical stores would also impact the way retailers provide fulfillment through in-store pickup, returns, or same-day delivery. For online orders, fulfillment will remain expensive due to rising shipping and packaging costs. This will all hit retailers' bottom lines and could mean that retail investment returns expectations will need to be adjusted accordingly.