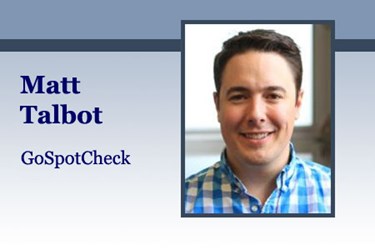 By Matt Talbot,  CEO, Co-Founder, GoSpotCheck
Field reps are the eyes, the ears and the first line of offense and defense for their organizations. Compliance reviews ensure that planograms and merchandising tactics are being executed correctly, and when problems occur—such as stockouts or hidden items—field teams are the first to observe and respond.
Field teams play a profound and fundamental role in the overarching success of a consumer goods company. This is why CPG brands are so ardently investing in building superior, highly efficient field teams and arming them with the necessary tools they need to succeed.
1. Give field teams the flexibility necessary to collect and record data
All retail locations—even franchises of the same retailer—are unique. Stores have different layouts, varied customer behavior, and every element of business and operations is idiosyncratic to a specific location. No one knows this better than field reps. Their territories consist of hundreds, sometimes even thousands of different locations across regions. In order for field reps to accurately convey what is occurring in the field, the tools they use must allow for flexible data collection on the go. For example, rich media capabilities offer reps the flexibility they need to take photos of in-store displays and enter data in ways that are conducive to the workings of individual retail accounts. Mobile data collection is paramount as well, allowing field teams easy data entry, no matter where they are.
Please log in or register below to read the full article.