July Innovative Retail Technologies
To gain access to automated, real-time replenishment data, Mister Safety Shoes underwent a full-scale ERP overhaul that helped its mobile stores deliver the best possible customer experience.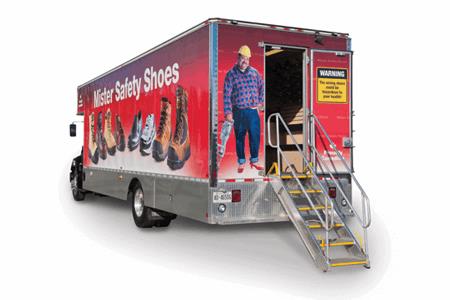 John Colantonio, managing director at Mister Safety Shoes, operates the more than 40-year-old family-owned company, which sells protective footwear to people such as construction and factory workers. With 16 brick-and-mortar stores and 17 mobile stores, Mister Safety Shoes is a leader in its space, and Colantonio explains how he and his team overhauled its legacy ERP (enterprise resource planning) and POS software to help its "store on wheels" deliver the coveted brick-and-mortar style customer experience.
Inside The Store On Wheels
Mister Safety Shoes' mobile stores go right to the plants and factories where the employees need shoes and other equipment. Its fl eet of mobile stores is equipped with a POS system and carries a very specifi c mix of inventory. "Unlike a standard brick-and-mortar environment, our mobile stores are not on a dedicated network, and because of that, we had challenges downloading and uploading data," explains Colantonio. "We regularly deal with large manufacturers, for example, and not only do we sell products to them, we are also responsible for validating each employee's eligibility to purchase our products. The companies allot their employees a certain amount of money per ERP Relief For Stores On Wheels year, and therefore, it's up to us to validate and keep track of what their employees are permitted to purchase from us and what each one spends per transaction. All of that data must be maintained in a central location yet must be readily available regardless of where our trucks might be."
"There was a great deal of human element involved with the picking process, which meant back orders were not always being tracked."
John Colantonio, managing director, Mister Safety Shoes
Then There's Replenishment
Replenishment for mobile stores was once a manual, time-consuming task for Mister Safety Shoes. At the end of the business day, an associate had to print a sell sheet detailing what was sold, which then became a pick list for the warehouse. The next day, those orders were picked for shipping. "If that particular product was out of stock in the warehouse, it was up to the mobile store associates to remember to reorder the products," explains Colantonio. "They'd have to keep a running tab of the products they ordered until they were replenished. There was a great deal of human element involved with the picking process, which meant back orders were not always being tracked."
Given that Mister Safety Shoes' business operations are so unique, the issues it encounters are often unpredictable. Coupled with antiquated POS and ERP systems that lacked the efficiencies and flexibility to help the retailer grow, Colantonio overhauled the existing systems with Magstar Total Retail, which includes Total POS, Total Warehouse, and Total CRM, as well as mobile handhelds for the warehouse. Magstar's Total ERP is a suite of retail and back office applications for midsize retailers that combines the front-end POS and customer relationship management to the warehouse and back office for full retail operations management. "Now, new stock is populated into the Magstar system as soon as it arrives," explains Colantonio. "Further, we utilize contract pricing with Magstar — the pricing is preloaded for us, which saves us on human error."
Mister Safety Shoes' technology road map is omni-channel focused. "We will implement Magstar's new POS version, and we're looking forward to the additional flexibility it will afford our business across all our channels," says Colantonio.